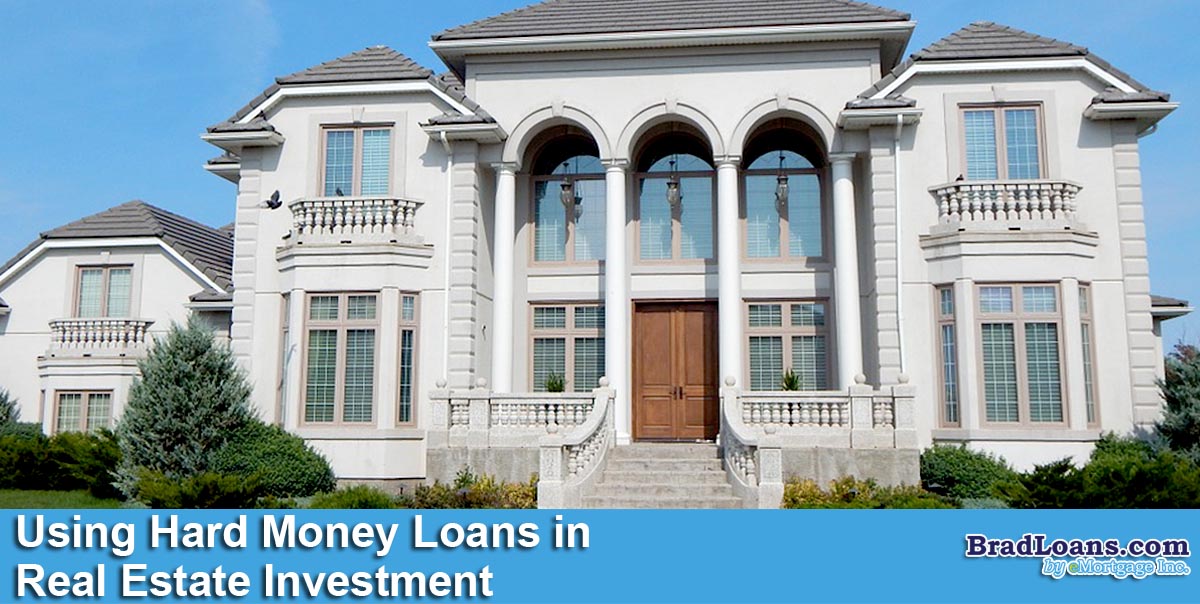 If you're searching for hard money loans for real estate investors to get involved with real estate investments in Phoenix, Brad Loans can help!  When it comes to creating wealth, real estate investments are a good option for many investors, as well as being effective for adding diversity to your portfolio. While real estate crowdfunding or REITs(real estate investment trusts)let you to invest more passively, there are a lot of investors that prefer to own the property directly. If parting with a large sum of money upfront makes you uncomfortable, then a hard money loan may be the way to go. Although these types of loans give you advantages over regular financing, there are some potential drawbacks that you should be aware of.
How does a hard money loan work?
A bridge loan or hard money loan is a tool for short term lending which is used by real estate investors for financing investment projects. It is quite common for bridge loans to be used by real estate developers or house flippers that have a goal of developing or renovating properties then selling them for profit. Private lenders will issue a hard money loans, instead of financial institutions like banks or credit unions.
Traditional bank loans tend to focus on the creditworthiness of the borrow, while hard money loans aren't based on solely on your credit. It is based on your ability to pay back the loan along with the merit of the real estate investment opportunity and property value to approve the loan. The lender will pay close attention to the after repair value or ARV, which is an estimate of the property value after the renovation or development has been completed.  Lenders will also take into account your plan for what needs to be done to a property, who will do it, and how it will be paid for.  The overall business plan is a larger factor in these lending situations than the credit history of the borrower.
The Pros
There are plenty of reasons to think about a hard money loan or bridge loan over a conventional loan from a bank. Below are a few advantages that it provides investors:
Convenience: It takes time to apply for a mortgage, even more now with new regulations placed on lending by the Dodd-Frank Act. This means it can take months to get a loan, which means that you could be missing out on a property. But, it is possible to get funding in a few weeks with a hard money loan. Time is quite important when you are investing, especially for a large development projects if deviations can't happen between the timeline and finishing the project.
Flexible terms: Since private lenders will offer hard money loans, it is quite possible for an investor to find a bit of wiggle room for negations on the loan terms. It is even possible to create a repayment schedule to fit what you need, or to get fees such as an origination fee eliminated or removed during underwriting.
Collateral: With a hard money loan, the investment property is the collateral for the loan. Even though, some lenders may offer you a bit of leeway on it. For instance, there may be lenders who will allow a loan to be secured by personal assets like retirement accounts or residential property owned by the investor.
The Cons
When it comes to financing, a hard money loan isn't always a perfect solution with some downsides to think about:
Expense: Although a hard money loan is convenient, it can cause an investor to pay a higher interest rate and fees with this option. The rate can be as high as 10% greater than your average loan. Loan origination fees, servicing fees, and closing costs are much higher.
Less time for repayment: The purpose for a hard money loan is to let the investor get the property, remodel it, prepare it, and get it back on the market quickly. The result is that loans have a shorter repayment time when compared to a regular loan. If you decide to go with a hard money loan, it is important to calculate how you're going to get the property ready and the loan paid back on time.  Ensure you've got funding for not only the purchase but repairs, tools, or skilled labor you'll need to get the house ready to be sold at a profit.
Overall
When it comes to getting a hard money loan, they are good for established investors that need to be quickly funded for an investment property and don't want to wait for traditional funding channels. It removes the red tape that comes with regular bank financing. When you look into hard money lenders look at the fees, interest rates, and loan terms. In the end, if you pay too much for the loan or the repayment terms are way too short, it could diminish the profits for your investment property.
Phoenix Hard Money Real Estate Loans
If you're interested in getting involved with real estate investing and need the capital to purchase properties hard money is a great way to get started.  Brad Loans has extensive experience in both real estate investing and hard money lending and is proud to offer Phoenix Valley real estate investors the financing they need.  It is easy to get started applying for hard money loan and Brad Loans is able to work with clients with bad credit and no credit. We are your source for hard money when traditional banks say no.  Read more about Brad Loan's hard money loan programs or get started fill out our hard money loan application or give us a call to ask questions at 480-948-0880.