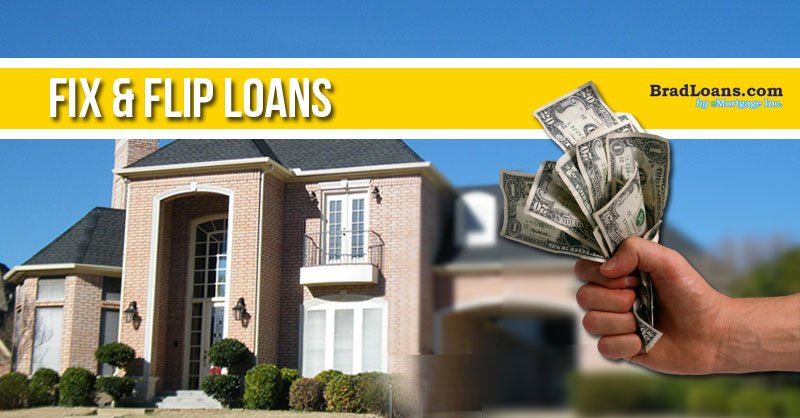 If you are searching for "fix and flip loans", "fix and flip financing", "house flipping loans", "hard money fix and flip loans", "home flipping loans", "real estate  flip loan" or "fix and flip funding" in Phoenix, Mesa, Chandler, Scottsdale, Glendale, Gilbert, Tempe, or anywhere else in the State of Arizona; Brad Loans by eMortgage can help! We provide the easiest way to get money to flip a house, and that's with hard money loans.   It's possible to get a 100% fix and flip loan when you use cross collateral for your loan. We're faster than banks and don't have the same miles of red tape that prevent many people from getting the financing they need.  Hard money lenders made it possible for fix and flip real estate investors to get the money they need despite having less than perfect or bad credit.



We Offer Hard Money Fix & Flip Loans In Arizona

LTV
INVESTOR FIX AND FLIP
Up to 70% LTV – 1 YEAR INTEREST ONLY
Up to 100% LTV Available With Cross Collateral ($975 additional fee)
LOAN ORIGINATION FEE
0 points + $1,920
RENOVATIONS INCLUDED PROGRAM
below re: financing of renovations and improvements.
What Does Fix & Flip Mean?

"Fix and flip" is a common term when it comes to real estate investing. It is the simplest form of real estate investments, involving the purchase of a property, making repairs that may be needed to ensure the property is appealing to buyers, and finally selling at a profit. Commonly, this process takes six months or less. There are short term financing options, known as rehab loan financing or fix and flip financing which provides flexible terms that were created to fit the unique requirements of investors.
Various strategies are available for fix and flip, but essentially they all have the same basic concepts:
Locating properties that need rehabilitation: REO's, foreclosure, water, fire, probates, etc. or any property that is outdated or distressed.
Securing short-term loan from a direct and reputable lender which covers part of the purchase amount, and part of the estimated cost of any needed improvements or repairs.
Making required improvements or repairs.
Putting finished property up for sale, locating a buyer and earning a profit.
Starting the process again.
Common Fix & Flip Repairs
The properties commonly bought for fix & flip loans are those that are considered undesirable because they need repairs.  To increase the property value in preparation for reselling it common repairs are adding bedrooms, finishing basements, remodeling kitchens, fixing or replacing roofs, and any repair which impacts the curb appeal value.  The best fix & flippers know how to maximize their repair budget to significantly increase the value of the property in a short period of time.
Choosing Good Fix & Flip Properties
When looking for properties to invest in with a fix & flip loan investors should keep a few things in mind to help lead to success. These are the condition of the property, how close the property is to schools, if the location is in a desirable neighborhood, close enough to work on, and value compared to the market. Consider properties which do not have major issues such as title problems, or need major repairs like rewiring, removal of mold, or needs any kind of repair that is excessively costly or time consuming. Properties which have ugly wallpaper, paint, and just need a refresh to improve the curb appeal and value are some of the best.
Obtaining Fix & Flip Loan Financing

The main factor in being successful with fix and flip investing is organizing and planning, with the first step to be finding the correct lender with the available capital for your investment of a hard money loan. Your loan is based on the following criteria with eMortgage:
Experience and credit
Amount available with the investor, or capital reserve
Property purchase price that you are interested in
Estimated costs of renovation and repairs
Estimated property resale value after repairs and improvements
What this means is, your loan will never be denied based on the following:
Income
Assets
Job History
Your assets
Condition of underlying property
How To Get Fix & Flip Loans With Bad Credit

Brad Loans hard money lending helps Arizona residents secure fix & flip loans despite bad credit.  When banks refuse to work with you Brad Loans can offer the money you need to invest in fix & flip opportunities.  Traditional loans are based largely on your track record with your credit and having established credit.  That means for people who are younger or don't have a lot of credit history, or the history has some blemishes, it can be hard if not impossible to get a loan for a fix and flip investment.
Hard money lenders are able to help people with bad credit get the money they need for fix & flip properties as the requirements are different.  When you apply for a hard money loan with bad credit lenders are more concerned with the overall merit of the deal.  If the property you're purchasing will be a good investment and if you have the ability to pay the loan back, in a timely manner.  This is what makes it possible for hard money lenders like Brad Loans to say YES, when banks say no.
Read More About: How To Get A Hard Money Loan
Fill Out Your Fix & Flip Loan Application Today

There are fix and flip strategies which are considered ideal for any level of experience with real estate investing. Take a look at the loan programs we offer or fill out your fix and flip loan application today. View the fix and flip hard money loans we offer.
Which Real Estate Investors Need Fix & Flip Funding?

Investors who are interested in buying wholesale, discounted, or even foreclosed properties choose fix & flip loans.  Bran Loans helps everyone including those with bad credit to get the fix & flip loans they need to buy the fix and flip properties they want and need.  We make it possible to get the funding you need despite bad credit, no credit, or other challenges.  When you are struggling to get the fix and flip loan you need, Brad Loans is the place to turn.
Summary
Service Type
Provider Name
Brad Loans
,
7522 E McDonald Dr.
,
Scottsdale
,
Arizona
-
85250
,
Telephone No.480-948-0880
Area
Phoenix, Mesa, Chandler, Scottsdale, Glendale, Gilbert, Tempe, and Valleywide
Description
Brad Loans offers fix and flip loans with the option of getting 100% loan to value with cross collateral in Phoenix, Mesa, Chandler, Scottsdale, Glendale, Tempe, and more!