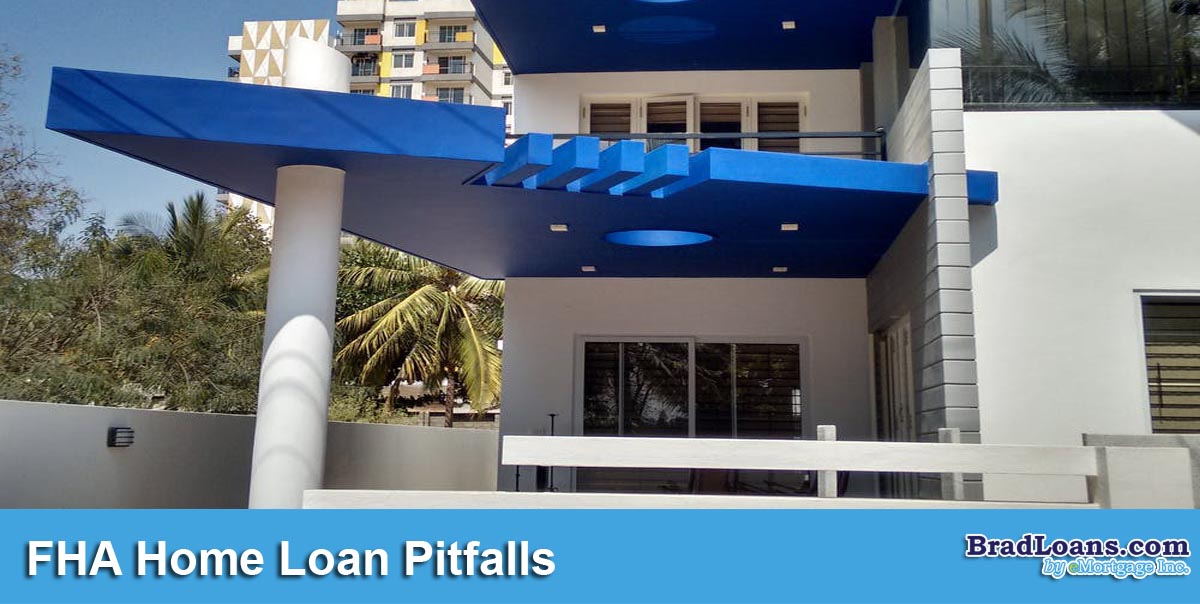 FHA loans are quite popular simply because it makes it easy for most people to purchase a home. Home ownership is a reality for many people, but these types of loans are not for everyone. Ensure that you fit the right type of profile and that you understand the disadvantages of getting a FHA loan before you fall in love with getting one.
Highlights of a FHA loan
Even if you have limited funds for a down payment and have damaged credit, you can qualify to get a home loan with a decent interest rate.
Down Payments: a FHA loan will let you put as little as 3.5% down. This will allow you to purchase a more expensive home with less money, and you are able to reserve some funds for improvement projects or other types of goals.
Credit issues:Those who have a troubled credit history will often have a hard time of getting approved with a conventional lender. FHA backing will allow you to be approved with a low credit score.
Home Improvement: FHA 203k loans will let you fund home improvement projects and buy a house at the same time. Combined with other types of features, they also make it easy and inexpensive.
Drawbacks of using a FHA Loan
When you are looking to purchase a home, it is wise that you evaluate whether or not getting a FHA loan will help you. Look at the bigger picture and then consider all the financial goals.
Low Down Payment: Low down payments can be a red flag. Putting 3.5% down could indicate you are financially stable and a home loan may be a higher risk.
It is worth waiting until you can save up for a larger down payment or looking at a less expensive home? Remember, the more that you borrow, the more interest that you will pay, which will make your house more expensive.
Upfront Insurance: If you put less 20% down, it means that you will be required to pay for mortgage insurance, with FHA loans having 2 types of insurance that you will need to pay for the whole life of the loan.
There will also be an upfront charge of 1.75% and most borrowers tend to wrap this particular fee into the balance of the loan. Remember, the more that you borrow, the more interest that you will pay. You will pay more than 1.75% unless you write a check at closing. A larger loan will also mean that you will have a larger monthly payment.
Ongoing Insurance: You will also have to pay monthly mortgage insurance. Ongoing insurance premiums are between 0.80 and 1.05% of the loan balance, even though it can go as low as 0.45% if you have a 15 year FHA loan. This extra cost means that you will end up paying additional every month. Whereas, private mortgage insurance may be cancelled once you have over 20% equity within your home. However, FHA insurance is unable to be canceled unless loans were obtained prior to June of 2013. Basically, you will have to refinance or pay the loan off to eliminate that cost.
Loan Choice: You will have limited choices when getting a FHA loan. For many borrowers, there is a 15 year or 30 year fixed loan which is great, so there isn't a problem. But, there are situations when an interest only mortgage or adjustable loan is much better. Don't just use them to lower your payment, make sure you have a bigger plan.
Property Limitations: Getting a FHA loan approved means that the property meets certain standards. For instance, basic safety and health requirements are met. If you are looking for a fixer upper, a good bargain, or a foreclosure, the FHA loan won't work. For the properties that are move in ready, a FHA loan will work. But if you are buying a condo it could be challenging. If there aren't enough units in the building that are owner occupied or there are other issues, a FHA loan may not work.
Qualifying: FHA loans may not always get approved. You will still need a minimum credit score, and need documents that state you have plenty of income to repay the loan. For qualifying for the lowest possible downpayment, you're going to need a 580 or higher on your FICO score. However, you may get approval with a score under 580 if you can provide a higher down payment.
Seller Hesitation: There are some situations that FHA loans could be a disadvantage when you are buying a home. Sellers want to know about their potential buyers, and a FHA loan doesn't say strength. What is more is that the seller may fear that the extra requirements are going to slow down the deal. If you are purchasing in a hot market, then try a different financing form.
Alternative Loan Sources
FHA loans aren't the only way to get the house you need.  Banks will work with people with good credit, hard money lenders work with fix & flip investors and home buyers with challenged credit, and military personnel are many times able to secure VA loans.  Choosing the right solution for your situation helps ensure that you get the home you need.
Bank Loans
A standard home loan that isn't backed by FHA may solve most of the issues above. Even if you think you won't be approved, it is worth trying for a conventional loan so that you can see what is out there. A conventional loan will let you have more flexibility, potentially purchasing a home with a 5%-10% down payment.
Hard Money Home Loans
If an FHA loan isn't right for you; a Hard Money Loan might be the best way to get the house you need.  Hard money lenders can loan to borrowers that have bad credit, no credit, and a wide variety of other credit challenges which prevent them from getting conventional loans or FHA loans.  In fact with hard money lending you can qualify for a zero money down home loan with cross collateral. Read more about: How to quality for a hard money loan.
Military VA Loans
If you're a member of the armed forces you might be eligible for a VA Loan for your home.  This is a great opportunity provides to veterans to purchase houses through a government funded service.  Interest rates are low and many times they work with challenged credit situations. Click here: For more information on VA Loans.
 Phoenix Valley Hard Money Lender
If you are looking for a hard money lender in the Phoenix Valley, Brad Loans is your source for the loan you need.  We can help you purchase a home to live in, or we can help you fund a real estate investment opportunity such as fix and flip properties.  We work with people with bad credit, no credit, and can overcome many of the roadblocks that standard FHA loans and traditional bank loans have.  For more information about how Brad Loans can help you get the money you need please call us at 480-948-0880 or fill out our hard money loan application.