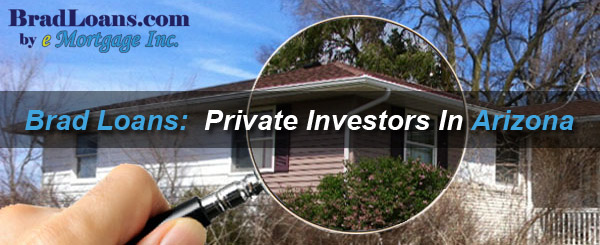 Looking for a private investors in Arizona or Phoenix?  Private investors usually help entrepreneurs find private money lenders for real estate investments. Brad Loans is a private investor in Phoenix, Arizona willing to lend money for real estate opportunities.



Private Investor Definition
A private investor is a individual person who invests hard money in a real estate or other financial endeavor, rather than a financing organization or company that invests. BradLoans by eMortgage is a private investor.
Why Real Estate Investors Use Private Investor Money?
Real estate investors use private investor money to make quick turnover deals or fund their short sale or real estate investment opportunities. California and Phoenix Arizona are both known for real estate investments & private money borrowing.
One of the problems real estate investors face is finding the capital to fund their investments. This is where BradLoans comes in to the equation. BradLoans is a private investor willing to lend private money to real estate investors in Phoenix Arizona.
Private money is the perfect source for local real estate investments.
Private Investors Usually lend based on location, interests, and goals:
Investors usually lend to those who are located within the city or state which they do business in
Private investors are prepared to take investment risks which could result in capital loss yet they still make the investment
Private investors will usually lend money to those with bed credit or no credit
As long as you can put down a deposit and agree to the loan terms, private money is a solid investment vehicle
View Brad Loans Private Money Rates, Fees and Loan Programs